First of all, we are glad to welcome you in this new website ! Car-Shooters is born from the idea to have great cars and beautiful sights in a unique photoshoot, trying to give you the best quality possible! We hope also to share with you short stories, amazing road trip itineraries, and why not, to give you some great ideas to plan your future trips !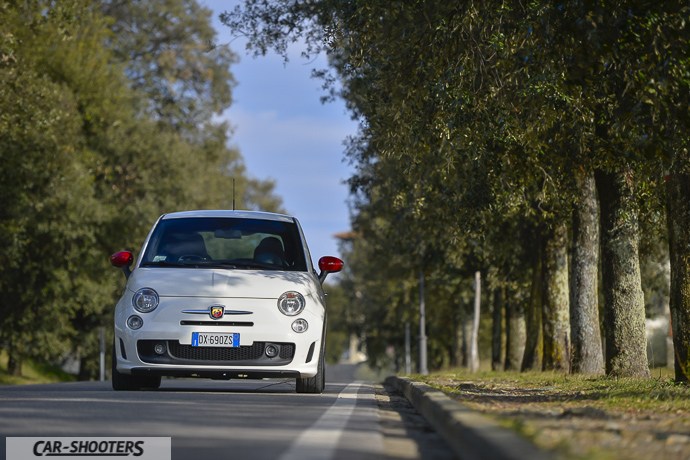 Being italians, and in particular from Florence, you will forgive us if, with a little presumption, we believe that the landscapes of our area are a perfect background for the first steps (and posts) of this photo blog.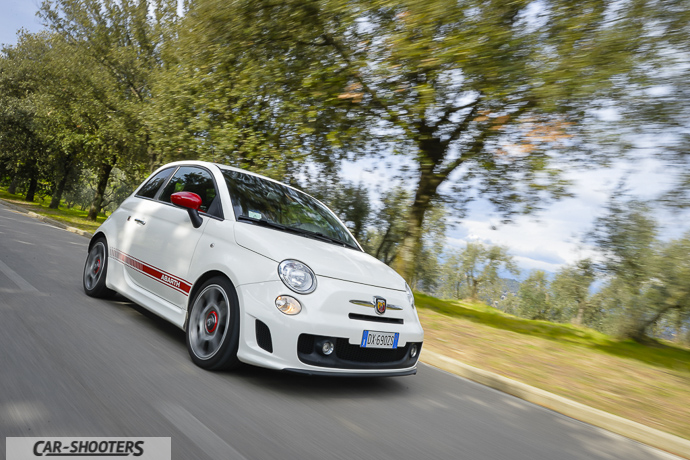 Ok, we admit that this one has been an easy decision. More difficult was to decide which car would be the first one. After many days evaluating proposals, once again the answer came from « home ». Here's the 500 Abarth Esseesse owned by Francesco, a very close friend of us.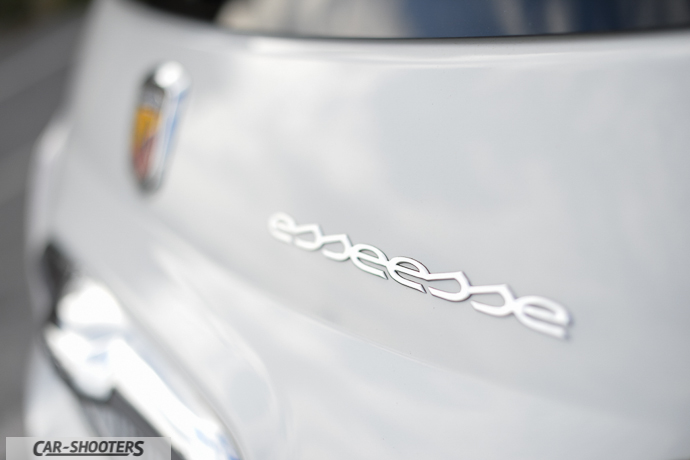 Why a 500 Abarth? Well, first because it's one of the most famous car in the world! Who doesn't know the truly italian 500? And second because with this high performance version it really seems to ride a racing car! It's fast, it has a nice loud exhaust and it is possible to personalize it as you prefer.
Anything to add? Oh, yes, it's too cool!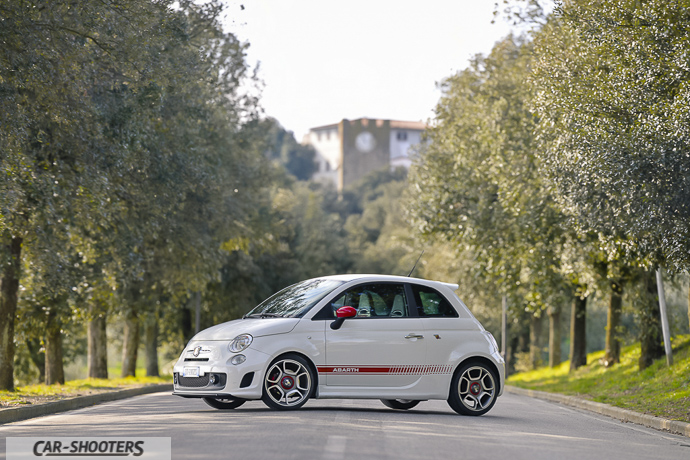 Togheter with Marco and our cameras, we are going to meet Francesco and his "gioiellino". We won't talk very much about technical details, in the recent years everything has been said about it, but we will focus our attention on how to have fun with the "Fiat's little scorpion".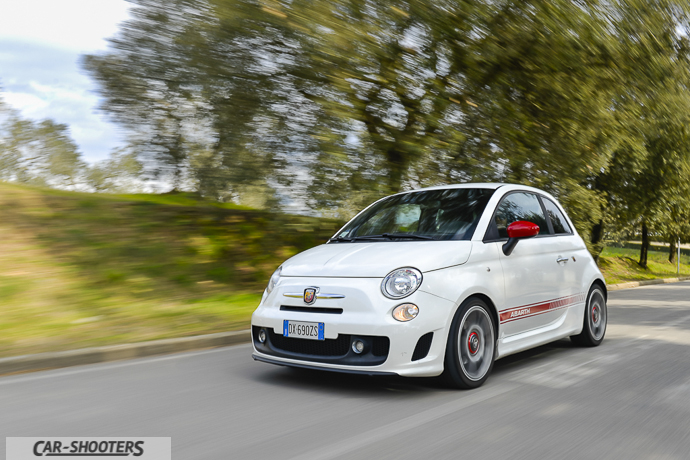 Where? For our first post we would like to bring you in a very beautiful and mostly unknown place a few minutes between Prato and Florence: Artimino.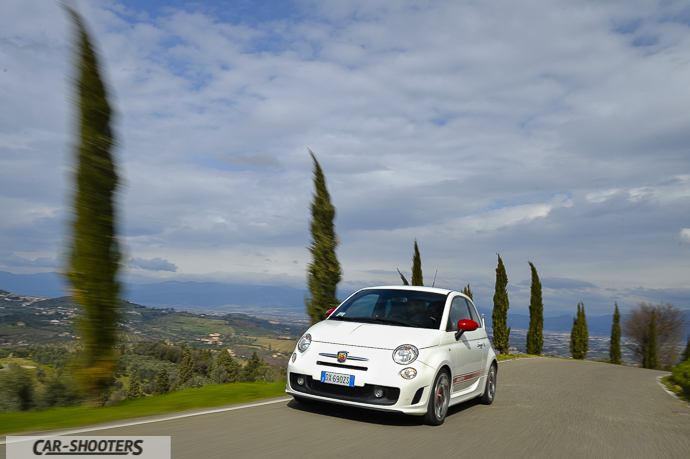 It is a special road itinerary, not very popular and perfect for this reason to run our car, sorrounded by a beautiful landscape.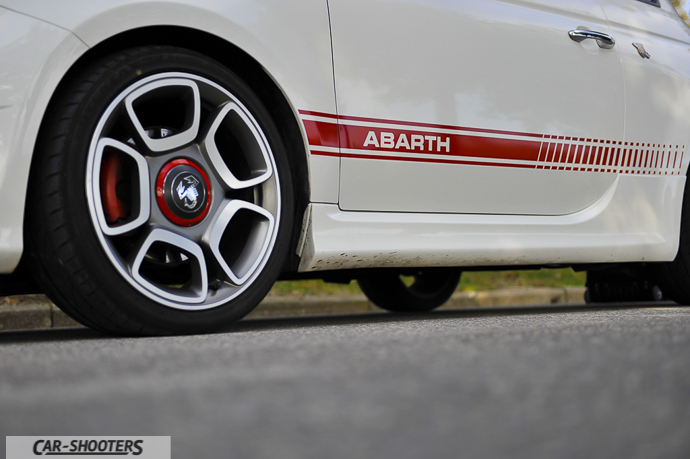 To be honest, we were hoping in a better day for our shooting. The sun makes fun of us, hiding itself behind the clouds, but we do not however lose hope to do great pics and have some fun! To arrive in Artimino there are many roads. According to Francesco we choose the one starting from Signa.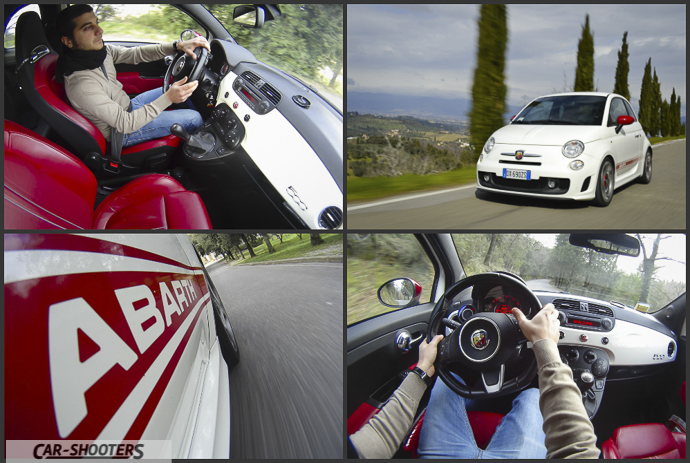 And I immediately understand why: it is a narrow, full of hairpins road: the ideal habitat for the Abarth! We had a great time riding the Abarth and, thanks to the Record Monza exhaust, is impossibile to be unnoticed!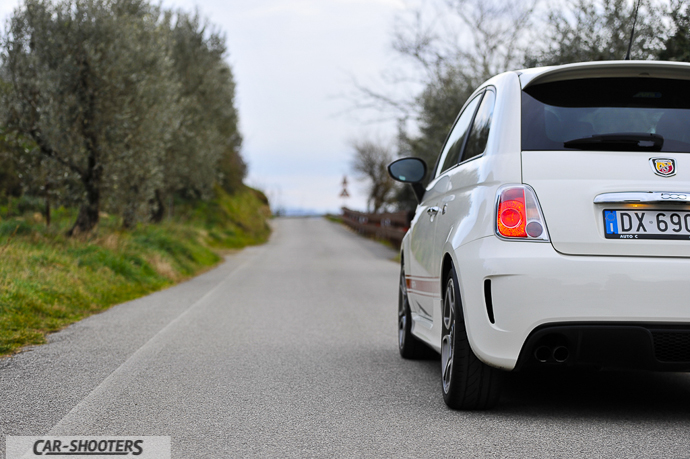 The trip is short but intense, uphill, plenty of narrow hairpins. The Esseesse 1,4 litre turbocharged petrol engine is full of torque and you can feel it! The landscape is also changing, leaving the noise of the city and going in a more peaceful place, at first sight, not at all suitable for our quick car.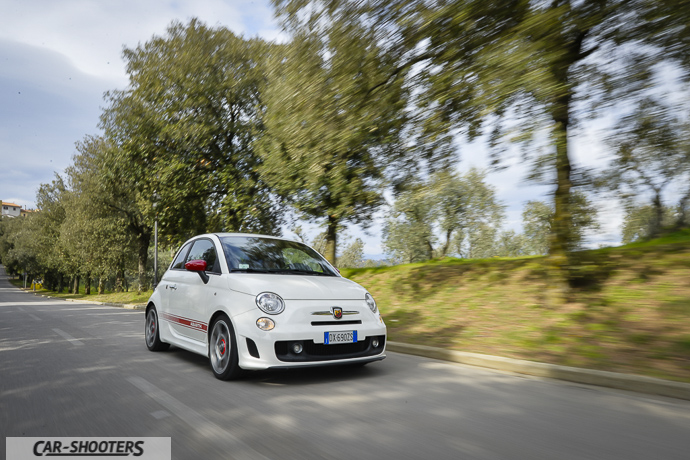 Once on the top, a last tree-lined street guides us at the beginning of the Artimino village and we are immediately struck by the breathtaking view.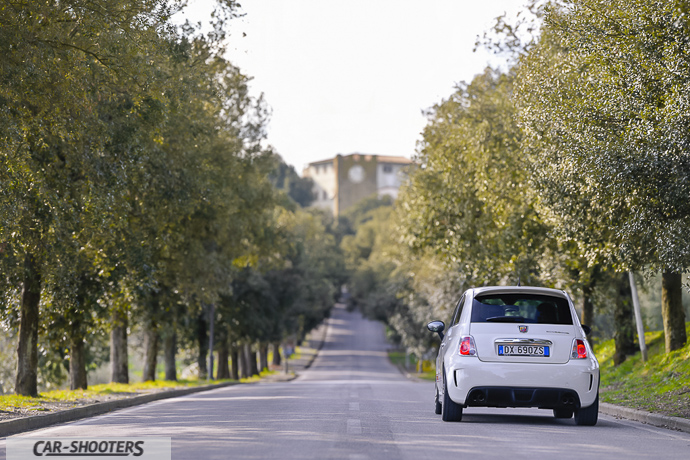 The Prato and Florence's valley at our feets. From the other side, we can observe the Medici's Villa dei Cento Camini. The Medici family has made a great choice for their summer residence!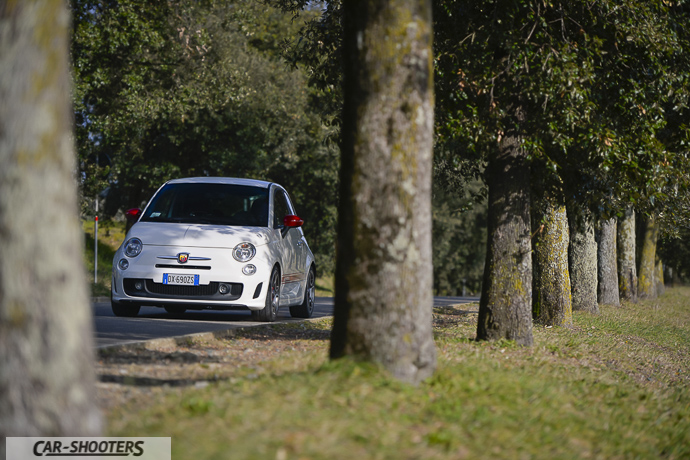 However, Artimino is not only a peaceful place with an outstanding view and an important "villa", infact it's also well known for the food. It can satisfy every taste!
You can found both luxurious restaurants as well as more simple italian grocery store! I said simple not common!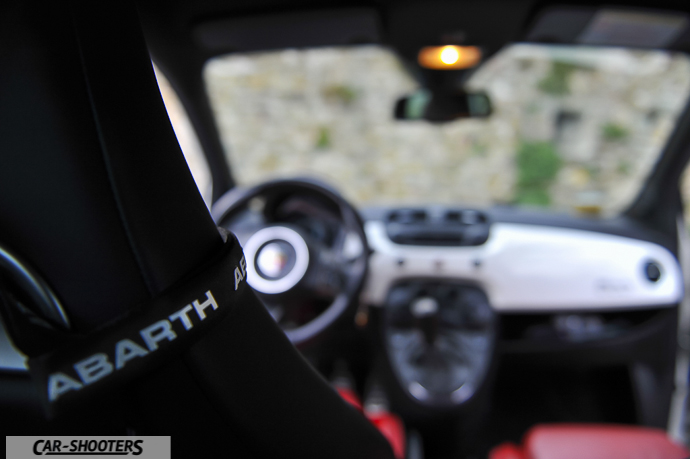 Our choice is for one of the last one, famous for its typical italian charcuterie and cheese board to drink with a good glass of red wine in front of the sight. Enjoy the true italian way of life!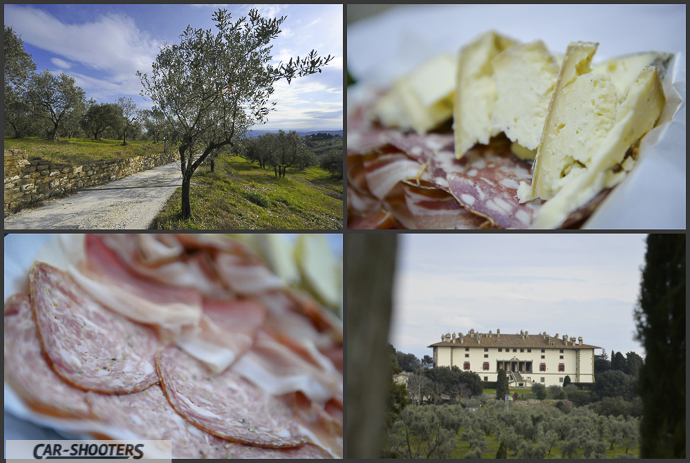 We enjoyed the food and the atmosphere but duty calls! Let's go back to work! We start to dedicate attention to "our " 500 trying to capture all its sportive essence even in static poses.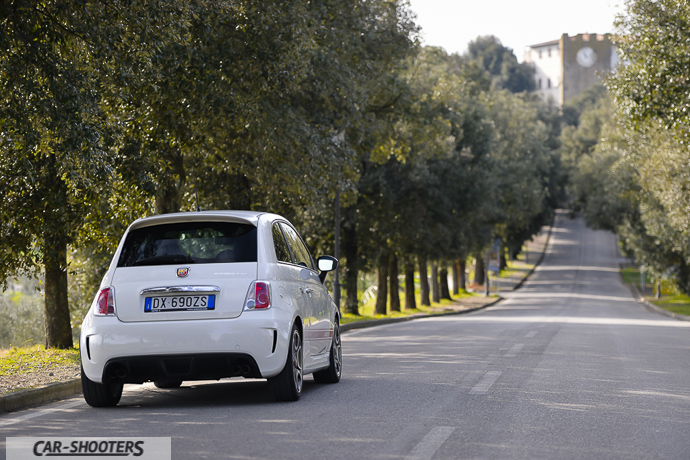 Photographically speaking, the Abarth 500 is a playground: many details, logos and strips, it lets space to creativity and we almost could say that one entire afternoon is not enough for being satisfied!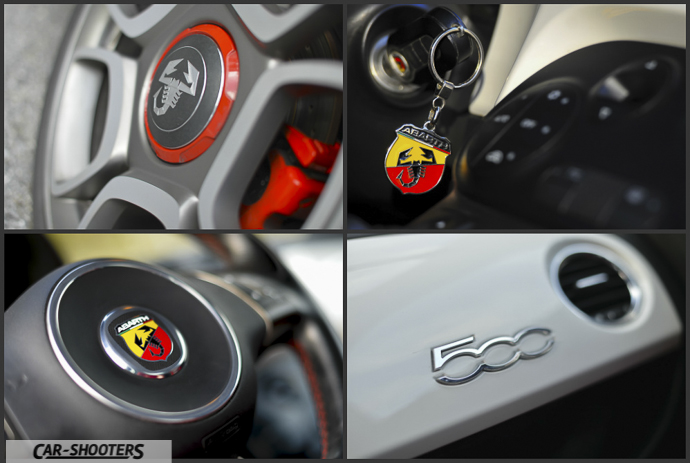 Sunset is coming, but we cannot leaving before have seeing inside the village's walls.
I am in particular impressed by the clock tower and the armony created by the small hamlet and the villa on its background.
A real feast for the eyes!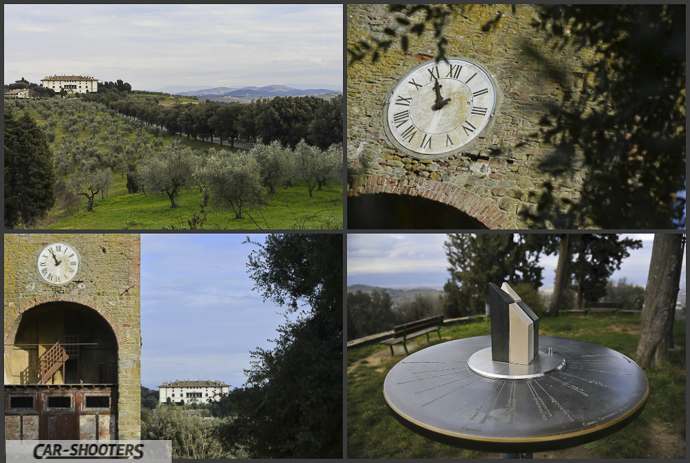 Clouds are now covered the sky, however, we would like to do some last shoots before leaving this little corner of paradise.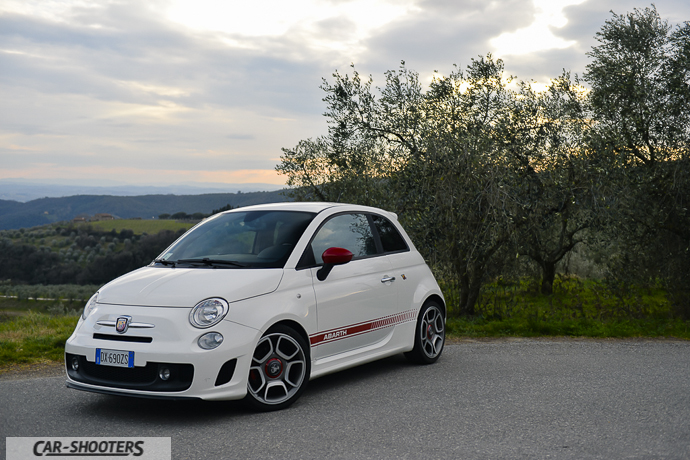 Can a car as the 500 Abarth and a peaceful, quiet place in the middle of Tuscan hills make a true equation? For us the answer is without any doubt a YES!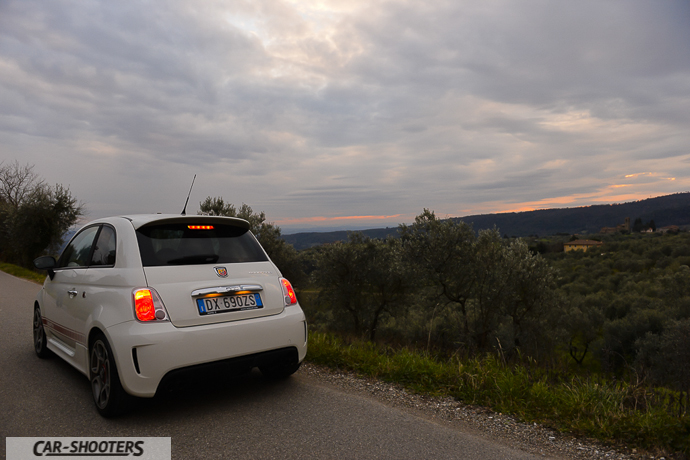 And if you have the possibility to visit Florence or Lastra a Signa and you would like to try an out-of-the-map road trip, Artiminio is the place for you!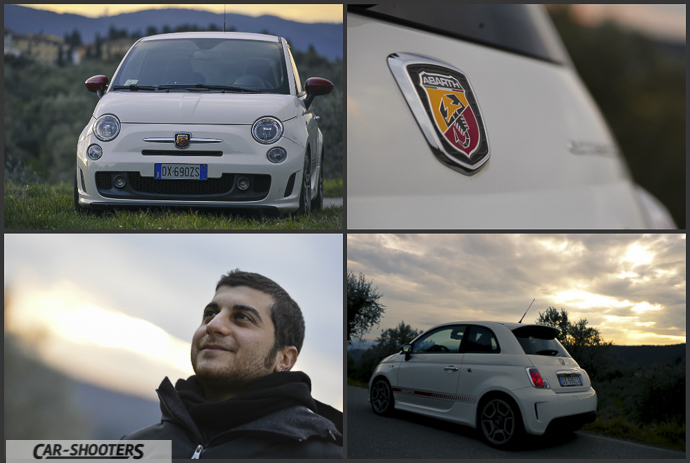 Here our detailed itinerary starting from the exit of Lastra a Signa of the SGC Firenze-Pisa-Livorno:
Text: Edoardo Mascalchi
Photos: Edoardo Mascalchi, Marco Dellisanti
Abarth 500 Esseesse:
Engine:
– 4 cylinders, 1368 cm3 Turbo Petrol
– Power: 160 CV
– Torque di 230 Nm
– 5 speeds gear
– Front brake discs diameter: 284mm, rear brake discs diameter: 240mm
– Maximum speed 211 Km/h
– 0/100 km/h in 7,4 seconds
Every comments is welcome! Your opinion counts!